Rubbish Removal Adelaide
For Fast, Professional and Affordable Rubbish Removal anywhere in Adelaide. Call for a Free Quote.  We Take Take Care of All Your Home, Office or Work Site Rubbish Removal.
Watch How Effective Our Load and Leave Works.
Adelaide Rubbish Collection & Disposal
Adelaide Rubbish is your trusted partner in efficient rubbish pickup and disposal services. We've redefined the waste removal experience with our cutting-edge mobile trailer bins, designed to streamline the process of decluttering your property. What sets us apart is our fair pricing model; you only pay for the volume we remove, ensuring a cost-effective solution.
Gone are the days of dealing with unsightly traditional skips taking up precious space in your driveway. With Adelaide Rubbish, our dedicated professionals are here to make your life easier. Just point us to the items you want gone, and we'll swiftly load our bins and whisk your unwanted goods away. It's the epitome of a fast, efficient, and affordable approach to waste collection in Adelaide.
Whether it's your home or business, if you're seeking top-tier waste collection services in Adelaide, look no further. Contact us today for a competitive quote and schedule a collection at your convenience
Adelaide's Most Trusted Waste Removal Company
The business has a number of mobile trailer bins ranging from 6-25 cubic metres with a standard bin being 13 cubes. Adelaide Rubbish will come to your site, load the rubbish into our trailers, then keep going to the next site. All you have to do is tell us what needs to be taken and our team will take care of the rest. There is only a minimum requirement of 2 cubic metres, with no maximum volume. You only pay for the volume removed, not on the bin size being used & we collect it from where it is on the property. The service Adelaide Rubbish offers is a cost-effective method of removing rubbish. You do not have a skip bin blocking your driveway or damaging your paving. There is also no need to get a council permit.
What we take;
Green waste,

Hard Rubbish (including tyres and ; mattresses),

General waste,

Building waste

E-waste, Pallets( including oversize), Cardboard, Plastics, Timber, White goods, Paint (invoiced on a litre basis).No Job is too big or too small!
What Our Clients Are Saying On Google
Merrilyn Wodson
I cannot speak too highly of Clive and his excellent service. I completely recommend this company…



Zainab Ishtiaq
Had the best experience with these guys. Very friendly, efficient and professional. Cost effective and punctual. I could not ask for any better service then these guys. Thank you for your help and keep up the EXCELLENT work.


Jay Worden
Really happy with the work they did in removing all of my massive green waste piles. Their prices were very reasonable too. They definitely made the final clean of my old rental a lot easier. Thanks guys.


Tim Sylvester
Clive and his friendly team turned up on time, took our mess and couldn't do enough . Easy and excellent.


Ally
Hi Clive, your guys were the same ones as last time, and they are very courteous and efficient. Thanks again for organising so quickly – It is appreciated. Cheers.


A Little History About Us
At Adelaide Rubbish, we take immense pride in being Adelaide's exclusive locally-owned, hands-on rubbish removal service. Our commitment extends to clearing waste from residential properties, business establishments, and industrial operations. With well-established waste management systems, we're well-equipped to handle your waste disposal needs. Notably, we ensure that a remarkable 95% of the rubbish we remove finds its way to recycling facilities at the transfer station, thus significantly reducing landfill waste.
Whether you require a one-time collection or ongoing, dependable service, no matter your location in Adelaide, we've got you covered. Since our inception in 1975, we've expanded our services to cater to all Adelaide suburbs, offering a comprehensive solution to various types of waste. For Adelaide residents seeking prompt, trustworthy rubbish removal, we're the name they rely on for efficient service delivered with a sense of urgency.
Adelaide Rubbish is the brainchild of Clive Sangster, boasting over 12 years of dedicated service in helping Adelaide homeowners rid their properties of unwanted clutter. His unwavering commitment to excellence drives our mission to uphold exceptionally high service standards. With ample capacity at our disposal, we can consistently meet your demands and call upon our trusted partners to handle any overflow needs seamlessly.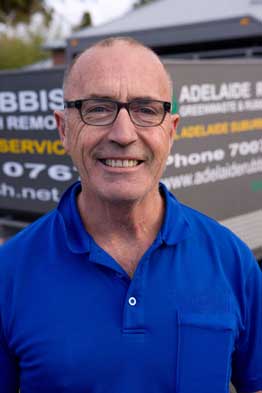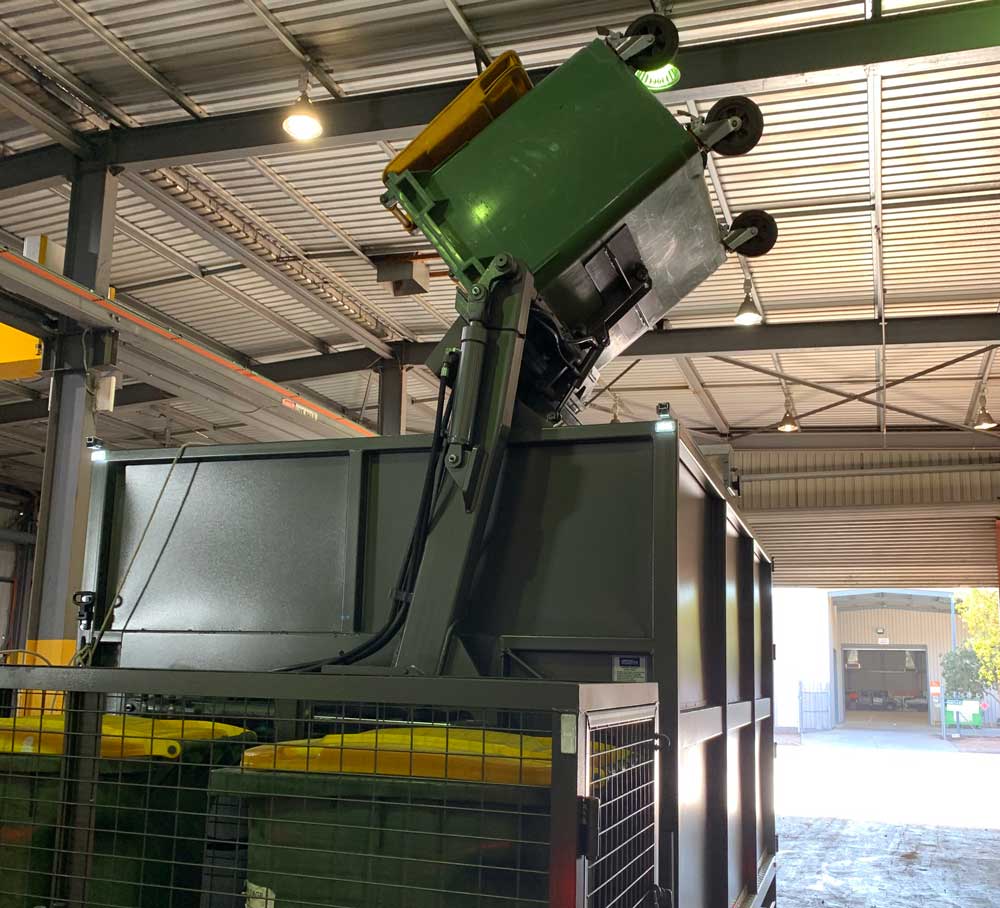 660L Bin
When managing your household waste, it is important to understand how waste collection in Adelaide is managed so you know what can be included in the standard refuse collection provided by the council and what can't.
Adelaide City Council has certain rules and regulations for waste collection in Adelaide – make sure you are fully compliant. Read on for advice.
What are the different bins for?
The red bin is for general household waste that is not organic and cannot be recycled. This includes plastics, cat litter, aluminium foil, used nappies, clothes and polystyrene foam. Waste collection in Adelaide means that this bin is collected weekly.

For rubbish removal Adelaide homes and businesses trust. Call us today.